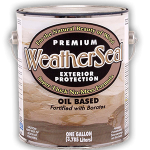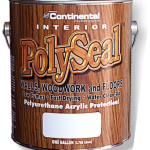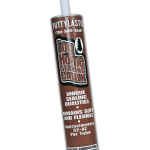 Continental Products
Weatherseal
Think Thick.....Think Weatherseal

http://www.continentalprod.com/log-home-products/weatherseal/
There is absolutely nothing quite like WeatherSeal. Unlike typical thin & runny stains, WeatherSeal is thick and rich and easy to apply… not a mess like all the rest. Formulated especially for log homes, WS can be used over ALL types of outdoor wood surfaces where a natural wood appearance is desired. It's an applicator's dream: it spreads creamy smooth, there's no pigment settling, and it soaks into the wood like a much thinner stain. Due to its thick consistency, you get more WS protection per brush stroke because more stain can be deposited on a vertical surface without dripping off. Plus, WS is totally complete. Superior protection, performance, and appearance are all packed in ONE product! And as a performer, WeatherSeal has earned a top rating by thousands of satisfied customers.
Puttylastic
What is Puttylastic?

http://www.continentalprod.com/log-home-products/puttylastic/
The "grand-daddy" of log home construction caulks Sealing log homes for almost three decades, Puttylastic is an excellent, all-weather log home construction caulk. Unlike other caulks, it is not as sensitive to adverse weather conditions, has better tube stability, and possesses qualities that are more suited to the unique nature of log homes. Puttylastic is designed to "cure" extremely slow. Its distinguishing feature is its ability to provide a soft, mobile seal.
Making An Informed Decision

Continental was the first company to provide product samples as a regular part of its sales program.   By offering liquid samples of actual product to the homeowner, much of the guesswork regarding coating characteristics and appearance was eliminated.  This kind of direct knowledge is essential for the consumer to make an informed and confident decision on the type of coatings to choose for both the interior and exterior walls of their home.  Come see us and take home a few samples to try
Copyright © 2016 Mooretown Timbers and Beams, LLC